Engineering firm for robotics - Your service provider with more than 30 years experience
Fast competent support as ...
Lecturer in robotics & Electrical engineering
The effective training of personnel is an essential requirement for a successful knowledge based company. As a lecturer I have demonstrated the capacity to develop the skills of my students, from the basic concepts of robotics and the fundamentals of electrical engineering, through to higher level studies in these areas. My teaching strategy, based on successful didactic principles, is designed with a view to ensuring an effective and satisfying knowledge transfer to apprentices and employees.
Develop in-house expertise
As an experienced educator with a proven track record in all practical and theoretical aspects of robot programming, my expert services would be highly beneficial to your organisation if:
You are planning a new project and are seeking to up-skill your employees in relevant areas of robot programming
You see benefits in developing in-house robotics capabilities, thereby ensuring that your employees are well equipped to deal with the time critical phases of any projects undertaken
You require an expert assessment of planned projects, or existing projects proving to be problematic
ABB RobotStudio - Simulation SmartComponent & AddIn Programming using C#
Productivity improvement in a workplace through the implementation of robotic automation can be effectively tested in a virtual environment using robot simulation programs. In such programs the robot manufacturers provide a three-dimensional virtual simulation of a robotic work cell in which all the dimensions of the work area and the robot's movements are almost exactly reproduced. Such a simulation provides a company with a very low cost means of determining all potential sources of error in the planned robotic installation prior to making a significant investment outlay on the project.
The performance of robotic systems and image processing applications is largely determined by the programmed software. The key to the successful implementation of these systems is specialized expertise, coupled with an extensive knowledge and application of appropriate simulation and software development tools. I have for over 20 years used such tools efficiently and successfully, and enthusiastically look forward to new challenges in this field.
Companies may experience the unexpected absence of key personnel from time to time. Such an occurrence may necessitate the engagement of external expertise to ensure that critical projects continue to be effectively managed. In the event that an interim manager is required to deal with immediate issues, or to provide a fresh and innovative perspective on meeting forthcoming challenges, my skills and experience see me as exceptionally well suited to successfully performing such a role. While my technical and methodological skills are highly developed, I would also bring to such a position management and interpersonal skills that would see me interact effectively with all strata of personnel within the company. My capacity for problem solving will see me 'hit the ground running' in any interim role, and with a strong commitment to strengthening the external image of the company.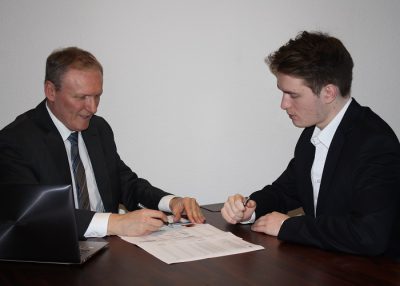 Robot solutions consultant
Companies considering productivity enhancing projects which incorporate sophisticated technologies such as robotics and/or machine vision are well advised to seek expert professional input to ensure that their projects are launched and implemented on a sound basis. In my capacity as a highly trained and highly skilled robotics professional I am fully equipped to provide guidance and advice on the efficiency and effectiveness of existing robotics systems; on the installation of new robotics systems under consideration; and on newly developed/optimized robotic approaches to productivity issues. My specialized knowledge in these areas has developed over many years and in concert with the developing sophistication of the field of robotics. During this period many technically demanding development projects have been successfully undertaken.
The conceptualization of a robot installation or image processing application can benefit greatly from the input of an experienced robotics professional. My expertise in this area will provide valuable assistance to company managements in the early stages of considering and assessing the productivity benefits of such a project. This assistance will take the form of a feasibility analysis within the primary layout. Such an analysis will benefit decision makers in that the opportunities and risks of the planned project can be reviewed independently of the robot manufacturer. In terms of implementation, independent expert advice will ensure the conceptual clarity of the project from the standpoint of consistency with the strategic decisions of the company.